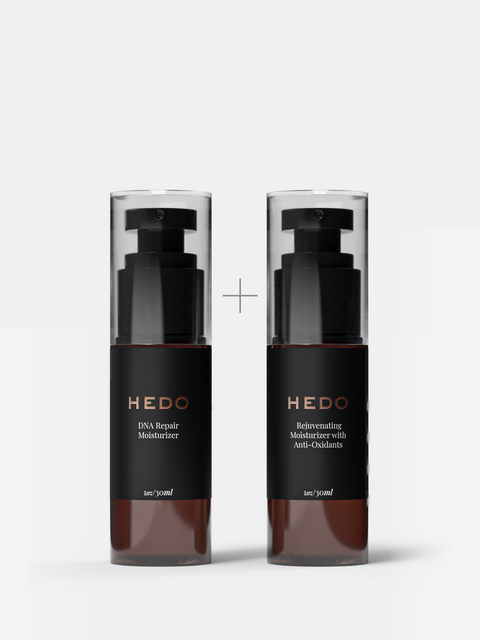 Skin Refresh Kit
Hydrates & Firms
Introducing our Skin Refresh Kit - the ultimate skincare solution for round-the-clock hydration and rejuvenation.

AM Moisturizer - Rejuvenating Moisturizer with Antioxidants

Our multi-functional AM moisturizer is the perfect addition to your morning routine. Packed with collagen-stimulating peptides, niacinamide, ceramides, and omega 3 and 6 fatty acids, this moisturizer not only hydrates and moisturizes, but also protects and repairs your skin from current and future damage. Our patent-pending non-HQ lightening technology effectively corrects hyperpigmentation and pigment suppression, while also penetrating deep into the skin for the most effective results.

PM Moisturizer - DNA Moisturizer

Our luxurious PM moisturizer is designed to plump and boost your skin while you sleep. With a powerful combination of hyaluronic acid, vitamins A, E, and C, copper peptides, Swiss apple stem cells, and Palmitoyl Tripeptide 38, this cream works to decrease wrinkles, roughness, and depth of wrinkles in just two months. Our unique formula also includes Hexapeptide-3 and Lipoic Acid to cross-link the skin's elastin and increase firmness, Retinyl Palmitate to boost ingredient penetration, and Allantoin to boost moisture and increase smoothness and regeneration of new skin cells.

Try our Skin Refresh Kit today and experience the ultimate in round-the-clock hydration and rejuvenation.

Check each product for ingredient list